4th Anniversary of Tropical Storm Lee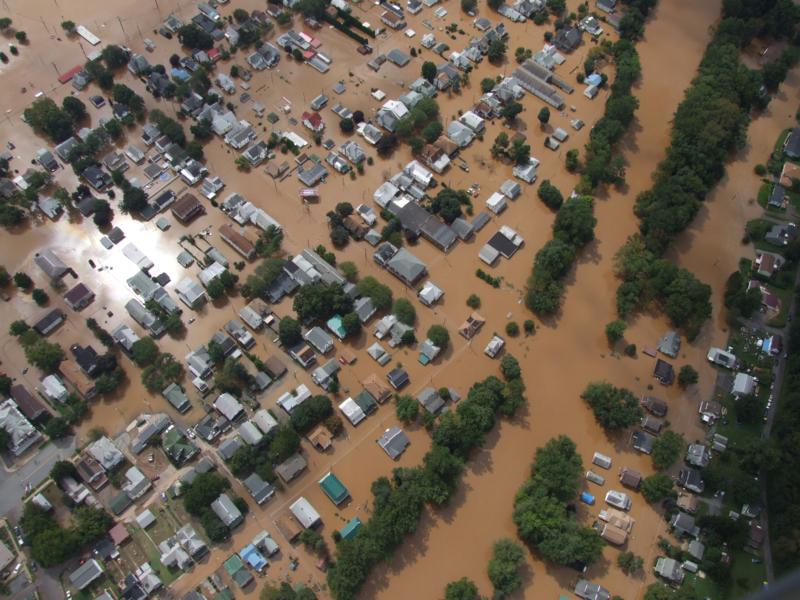 This week marks the 4th anniversary of Tropical Storm Lee hitting the Northeast Pennsylvania Region. Following the devastation, forty-two (42) counties in the state were declared disaster areas, while the worst of the flooding was focused along the Susquehanna River Valley. Unfortunately, many residents in the area were unaware they were living in a flood zone and therefore unprepared.
In 1968, the Federal Emergency Management Agency (FEMA) created the National Flood Insurance Program (NFIP) mainly because flood insurance was nearly unobtainable from the private insurance markets. The NFIP is comprised of three components, such as; provide flood insurance, improve floodplain management and develop maps of flood hazard zones. The NFIP allows property owners in participating communities to purchase insurance to protect against flood loss. Communities that participate are required to establish management regulations in order to reduce future flood damages. This form of insurance is intended to act as an alternative insurance to disaster assistance. Community management regulation for future construction will reduce the rising costs of repairing damage to buildings and the contents caused by floods. A homeowner is able to purchase excess flood insurance, but they must be covered by NFIP flood insurance first. Information on how to obtain flood insurance can be found at the official site of the NFIP, www.floodsmart.org. To buy a flood insurance policy, contact your insurance agent or insurance company.
In July 2012, the U.S. Congress passed the Biggert-Waters Flood Insurance Reform Act of 2012 (BW-12) which calls on FEMA and other agencies to make a number of changes to the way the NFIP is run. It would gradually phase-out subsidies for all older properties, including those with severe repetitive losses. In March 2014, President Obama signed the Homeowner Flood Insurance Affordability Act of 2014 into law. This Act repeals and modifies certain BW-12 provisions and makes additional program changes to other aspects of the NFIP. According to FEMA, the law lowers the rate increases on some policies, prevents some future rate increases, and implements a surcharge on all policyholders. It also repeals certain rate increases that have already gone into effect and provides for refunds to those policyholders. For a complete overview of the Homeowner Flood Insurance Affordability Act of 2014 visit this website: http://www.naic.org/documents/topic_nfip_overview_homeowner_flood_insurance_affordability_act_2014.pdf
How do you determine if your property falls into the Flood Hazard Zones (FHZ)? FEMA has developed a standardized Elevation Certificate form that is used to gather elevation data for the purpose of accurately assessing flood risks to structures in the FHZ. An Elevation Certificate must be prepared and certified by a Pennsylvania licensed Land Surveyor. An Elevation Certificate contains:
Accurate determination of the Flood Zone and Base Flood Elevation (BFE)

Geographic location of the structure (latitude & longitude)

Ground elevations adjacent to the structure's foundation

Type of structure and foundation system

Elevation of the lowest storage level (crawlspace, basement, slab, etc.)

Elevation of the lowest living area

Elevation of the mechanical equipment (furnace, hot water heaters, etc.)

Photographs of the structure
Anyone may voluntarily purchase flood insurance for their home, but if you have recently purchased, refinanced a home or are renewing an existing policy located in a Flood Hazard Zone with a federally guaranteed mortgage, flood insurance is mandatory. When obtaining flood insurance, most providers require an Elevation Certificate prior to issuing a policy.
Our sister company, Peters Consultants, Inc. (PCI) Survey Department offers Elevation Certificate Services throughout the Northeastern Pennsylvania Region for property owners with structures located in FEMA designated Flood Hazard Zones. Since FEMA established the National Flood Insurance Program, Peters Consultants, Inc. has provided Elevation Certificates for countless homeowners along the rivers, streams and tributaries of Northeastern Pennsylvania. All the surveys are conducted in strict compliance with established FEMA guidelines.
Contact Peters Consultants, Inc. at 570.752.4433 or by email at info1@petersconsultants.com for a no cost estimate.
*Photo credit: http://pacast.com